Registration (Important because there are a limited number of Hats and Mugs!)
ONLINE REGISTRATION IS CLOSED , however, you can still register in person at the event! Hats and mugs are limited but we usually take them with us to the first few bars...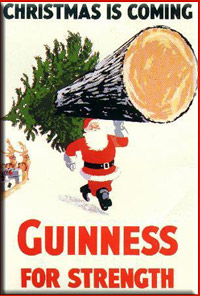 *Liability Waiver & Release Form - 12 Bars of Christmas
This Liability Release From is a written agreement between the organizers of the 12 Bars of Christmas, the Pub Crawl leader (hereon known as the "Guide"), & all paying or non-paying participants (hereon known as the "Guest").
The 12 Bars of Christmas is a guided tour that takes place inside pubs or bars where alcohol is served. Neither the Organizers nor the Guide is in any way affiliated with any of the pubs or bars on the tour. There is NO OBLIGATION to purchase or consume anything, including alcoholic drinks, while on the Pub Crawl. The decision to consume alcohol is solely at the discretion of each Guest.
Each Guest is required to sign this Liability Waiver & Release Form, hereby attesting to their own ability to do so under Florida Law. Any Guest refusing to sign this waiver will not be permitted to participate in the Pub Crawl, and any purchased tickets will be fully refunded.
By signing this form, you, the Guest, agree to waive any present or future claims or actions, and will release and hold harmless the Organizers and the Guide from any and all liability as a result of any injury suffered or incurred while on the 12 Bars of Christmas Pub Crawl, for any reason, whether consuming alcohol or not.